This article by Tracy Ellen Kamens was originally published on It's A Winederful Life
Living la vita del vino with Tracy Ellen Kamens, Ed.D., DWS, CWE at http://itsawinederfullife.com/valpolicella-one-gentle-wine-from-verona. Posted on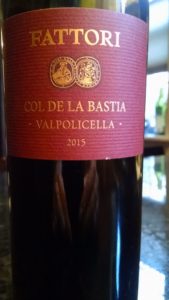 Looking for a low tannin, high quality red wine? Look no further than Valpolicella!
This fruity, yet elegant, red wine hails from the Veneto region of northeastern Italy.
We tasted a selection of these wines at a recent Wine Media Guild luncheon and, while I had my favorites, there wasn't a bad wine in the bunch. Even more impressive, most the wines were priced under $20.00.
While Verona is famous for its balcony, the valley (val), just north of the city, is known for its many (poli) cellars (cella). This amalgamated name has been attributed to the wine since the mid-12th century.
The region relies on indigenous grape varieties, with most wines produced as a blend of Corvina and Corvinone and, to a lesser extent, Rondinella (making up 5% to 30% of the total), supplemented with other authorized, red varieties. The resulting wines have aromas and flavors of berries, cherries and flowers, although I did find some herbaceous notes in a few of the wines we tasted.
Unlike its vinous siblings – Amarone and Ripaso – these wines are not aged nor are they influenced by dried grapes. Consequently, they are wines that are honest about their origins. Looking at the vineyards themselves, the focus has been on reducing chemicals through the Consorzio's "Reduce Respect Retrench" Project. To date, low impact pest control measures have been implemented for 2,000 ha (approximately 25% of current plantings) and growing.
Wines produced from grapes grown within the most historic (aka classic) area are called Valpolicella Classico DOC, while those from the broader designation are simply, Valpolicella DOC.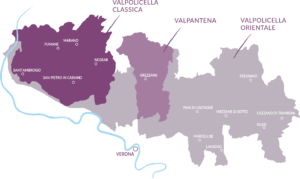 All in all, we tasted 12 wines; these were my top selections:
* Buglioni "Il Valpo" Valpolicella DOC Classico 2015, Veneto, Italy, $19.00
* Scriani Valpolicella DOC Classico 2015, Veneto, Italy, $17.00
* San Cassiano Valpolicella DOC 2014, Veneto, Italy, $N/A
* Fattori "Col de la Bastia" Valpolicella DOC 2015, Veneto, Italy, $N/A
* Massimago Valpolicella DOC 2014, Veneto, Italy, $17.00
* Villa San Carlo Valpolicella DOC 2015, Veneto, Italy, $N/A
The 2014 wines tended to be more acidic in style due to the cooler weather conditions of that vintage, while the 2015 wines were more generous. The Consorzio has very high hopes of the 2016 harvest being even better than 2015.
The wines paired quite well with pasta as well as with a pork dish and are a nice option for this transitional period of late autumn with its crisp, sunny days and cooler nights.
NB: Prices are listed when available on Wine-Searcher.com  All other wines are available in the U.S. somewhere, but not somewhere associated with Wine Searcher.